A Quick Guide to Palmitoylethanolamide (PEA)
DISCLAIMER
This blog does not intend to provide diagnosis... Read More

This blog does not intend to provide diagnosis, treatment, or medical advice. Read more. The content provided on this blog is for informational purposes only. Please consult with a physician or other healthcare professional regarding any medical or health-related diagnosis or treatment options. Information on this blog should not be considered as a substitute for advice from a healthcare professional. The claims made about specific products throughout this blog are not approved to diagnose, treat, cure, or prevent disease.
In this article: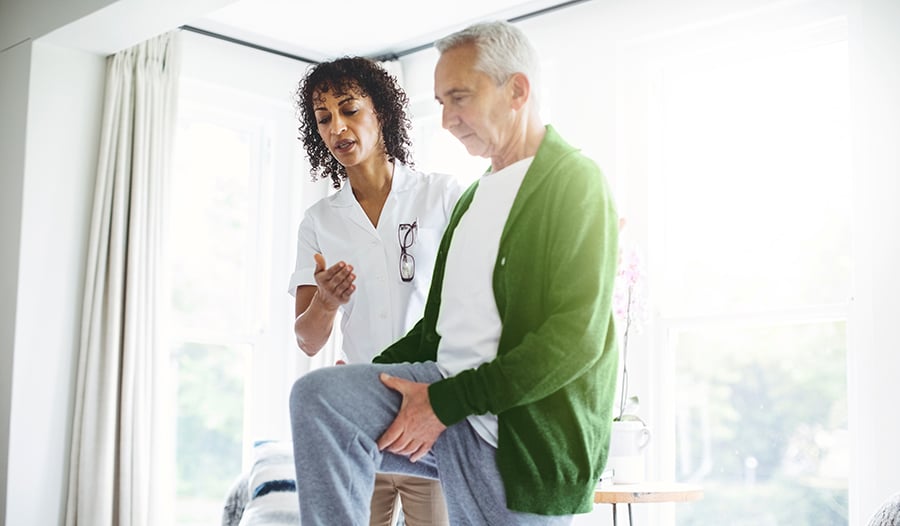 Palmitoylethanolamide (PEA) is a fatty substance produced in the body as well as found in concentrations from food including organ meats, chicken egg yolk, olive oil, safflower and soy lecithin, peanuts, and several others.
PEA is technically referred to as a "pro-resolving lipid signaling molecule." What this means is that through impacting central control mechanisms within our cells, PEA has an ability to resolve inflammation and cellular stress. This extremely beneficial effect has been demonstrated in over 600 scientific investigations.
The potential clinical applications of PEA are quite broad, but research and popular use have focused on its use as an anti-inflammatory and pain-relieving agent in conditions like low back pain, sciatica, osteoarthritis, etc. Preclinical and human studies have also investigated its effects on depression, boosting mental function and memory, autism, multiple sclerosis, obesity, and metabolic syndrome. While it shares many features comparable to cannabidiol (CBD), the advantage of PEA is that it has better science to support its use.
How does PEA Provide Anti-inflammatory and Pain Relieving Effects?
The health benefits of PEA involve a variety of effects including those on immune cells that control inflammation, particularly in the brain. PEA reduces the production of inflammatory compounds. But, the major effect of PEA is on receptors on cells that control all aspects of cellular function. These receptors are known as PPARs. PEA and other compounds that help activate PPARs reduce pain and also enhance metabolism by burning fat, reduce serum triglycerides, increase serum HDL cholesterol, improve blood sugar control, and promote weight loss.
Since PEA Works to Resolve Brain Inflammation Could it be Helpful in other Conditions Affecting the Brain?
Yes, PEA addresses well-established mechanisms that play key roles in chronic pain as well as mental function and depression. There is considerable evidence that PEA exerts significant benefit in overcoming the decline in mental cognition as well as the depression associated with chronic pain. An antidepressant effect has been demonstrated in animal models of depression as well as in a human double-blind, placebo-controlled trial. PEA has also been shown to reduce the stress response supporting a central protective role against the effects of stress and anxiety.
What are the Clinical Applications of PEA?
PEA has extensive possible clinical applications due to its unique effects on factors that control cell function. The primary clinical research focused on PEA has been in the treatment of pain and inflammation. In that area of focus, there have been at least 21 clinical trials with PEA. These studies had a range of 20 to 636 patients and PEA was used for periods ranging from 14 days to 120 days. The dosage ranged from 300 mg to 1200 mg daily. The administration form of PEA was in most cases oral tablets and most common form of evaluation for pain was the visual analog scale (VAS), where the patient makes a subjective assessment of her/his pain level on a scale of 0 to 10 where 0 is no pain and 10 is the worst imaginable pain. In all but one study, the clinical trials have largely reported significantly reduced pain intensity and an almost complete absence of side effects.
The largest of the double-blind studies investigated the effects of PEA on lower back or sciatica pain. The results showed that PEA at a dosage of 600 mg per day and 300 mg per day were significantly more effective than a placebo with the higher dosage (600 mg) showing the greatest effect. The big finding of the study was the number needed to treat (NNT) to demonstrate a 50% reduction in pain. The NNT is considered a statistically reliable and readily interpretable measure to rank the efficacy of chronic pain treatments. The NNT is interpreted as the number of patients one would need to treat in order to get one more responder on the active treatment than one would have gotten had they been treated with a placebo. The lower the NNT, the higher the efficacy. In the study, PEA demonstrated a NNT of 1.5 meaning that out of 3 people two would be responders. For comparison, ibuprofen 400 mg has a NNT of 2.8; acetaminophen 600 mg has a NNT of 5; and codeine 60 mg has a NNT of 18.
This superiority to ibuprofen was also shown in a study that compared the effect of PEA versus ibuprofen for pain relief in temporomandibular joint (TMJ) osteoarthritis. The 24 patients (16 women and 8 men) aged 24 to 54 years were randomly divided into two groups: group A (12 subjects) received PEA 300 mg in the morning and 600 mg in the evening for 7 days and then 300 mg twice a day for 7 more days. Group B (12 subjects) received an extremely high dosage of ibuprofen at 600 mg three times a day for 2 weeks. Every patient recorded the intensity of spontaneous pain on a visual analog scale twice a day. Maximum mouth opening was recorded by a blind operator during the first visit and again after the 14th day of drug treatment. After two weeks of treatment, the participants were evaluated and the pain decrease was significantly greater with PEA than with ibuprofen. Maximum mouth opening also improved more in group A than in group B. This study showed that PEA is effective in treating TMJ inflammatory pain and that it outperformed ibuprofen.
The most recent study with PEA was in the treatment of osteoarthritis of the knee. The 111 participants were randomized to receive 300 mg PEA, 600 mg PEA or placebo each day for 8 weeks. In the groups getting PEA, there was a significant reduction in the total symptom scores for knee osteoarthritis as well as the individual scores for pain, stiffness, and function as well as anxiety. There were no side effects with PEA in this study. While the 300 mg per day dosage was effective, the 600 mg per day dosage was even more so. Given its lack of side effects, the higher dosage is recommended.
PEA Positive Clinical Benefits in Conditions Associated with Pain
Low back pain
Sciatic pain
Osteoarthritis
Fibromyalgia
Carpal tunnel syndrome
Peripheral neuropathies – diabetic neuropathy & chemotherapy-induced peripheral neuropathy
Neuropathic pain – related to stroke & multiple sclerosis
Dental pain
Chronic pelvic and vaginal pain
Postherpetic neuralgia
Several studies with PEA have used it in combination with standard drug therapy. For example, in the treatment of fibromyalgia, a syndrome characterized by persistent pain, depression, and poor sleep quality when PEA was combined with an antidepressant and pentagabin (Neurontin) compared to those on the drug approach alone, those receiving the PEA showed a greater than 50% lower score for fibromyalgia symptoms including pain. The researchers concluded "Our study confirms… the added benefit and safety of PEA in the treatment of pain in patients affected by fibromyalgia."
In regard to PEA's antidepressant effects, this was proven in a randomized double-blind, placebo-controlled study. PEA was used as an "add on" therapy to the drug citalopram (Celexa), a selective serotonin reuptake inhibitor in patients with major depressive disorder. The 54 patients were randomized to receive either PEA (600 mg twice daily) or placebo in addition to citalopram for six weeks. Results showed a greater reduction in depression scores with PEA that were apparent after only 2 weeks of use. Thus, PEA exerts a rapid antidepressant effect. The advantage with PEA compared to the placebo group was evident throughout the trial period. At the end of the trial 100% of the patients in the PEA group experienced a ≥ 50% reduction in their depression score compared to 74% in the group taking only the antidepressant drug.
PEA also exerts a multitude of effects in models of degenerative brain diseases such as Alzheimer's disease, Parkinson's disease, and multiple sclerosis.
Where Does PEA Come From?
There are basically two forms of PEA available commercially:
A synthetic form whereby the ethanolamide portion is attached to palmitic acid with the aid of a powerful synthetic solvent such as toluene.
A natural derived form from safflower lecithin.
What is the Recommended Dosage of PEA?
Most studies used a dosage of 300 mg twice daily or 600 mg daily. The exception is in depression where the dosage used is 600 mg twice daily.
Are There Any Side Effects or Safety Issues?
PEA is completely safe and nontoxic in No significant treatment-related adverse effect with PEA has been noted in clinical trials in humans. There are no known drug interactions with PEA.