The Effects of Blue Light On Our Skin and Eyes
DISCLAIMER
This blog has not been approved by your local health department and is not intended to provide diagnosis, treatment, or medical advice. Read More

This blog has not been approved by your local health department and is not intended to provide diagnosis, treatment, or medical advice. The content provided on this blog is for informational purposes only. Please consult with a physician or other healthcare professional regarding any medical or health-related diagnosis or treatment options. Information on this blog should not be considered as a substitute for advice from a healthcare professional. The claims made about specific products throughout this blog are not approved to diagnose, treat, cure, or prevent disease.
In this article: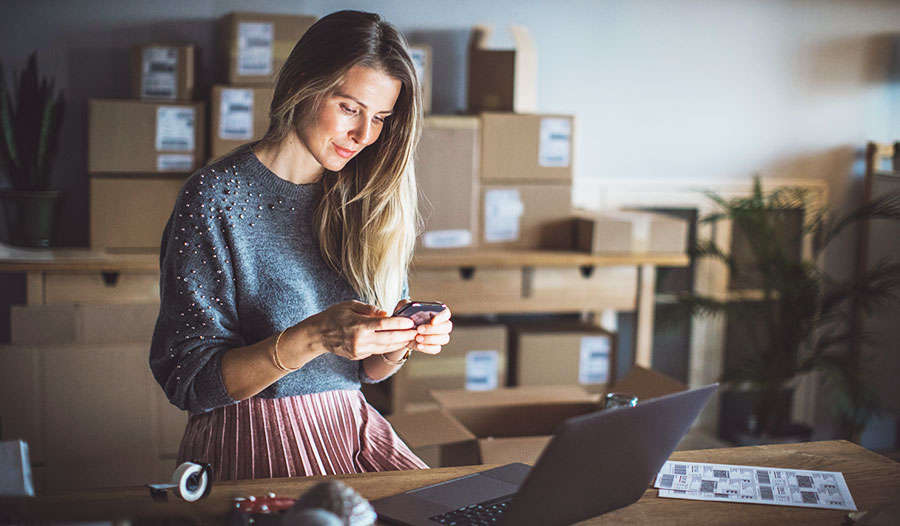 While we are living our lives and taking full advantage of our personal technology devices, scientists are conducting research and gathering knowledge about them. As technology becomes a key element of our lives, we spend more time looking at computer screens, mobile devices, and televisions.
Something scientists have found that these devices have in common is they emit blue light. Research suggests long term exposure to blue light can be harmful to our skin. Not only may blue light be harmful to skin, but research also shows it may be harmful to our eyes. Blue light is something we all need to understand and protect ourselves from.
‌‌‌‌What Is Blue Light?
High Energy Visible light (also known as HEV or blue light) is a form of light that we can see with our eyes. Light travels in waves and each type of light has a wavelength and emits a certain amount of energy. The shorter the wavelength, the more energy it puts out. The human eye can't see all wavelengths but blue light is still within the range we can see.
Ultraviolet light is an example of light that cannot be seen by the human eye because the wavelength is too short. Ultraviolet light is very powerful and over-exposure is harmful to the human body. There's no need to convince anyone of that—it's a well-known fact. What's not obvious to many people is that the wavelength of blue light is similar to ultraviolet light and almost equally as powerful. Blue light has the ability to wreak havoc! Given the intense energy of blue light and increased exposure to humans in the era of technology, it is something we all need to be aware of.
‌‌‌‌Why Is Blue Light a Growing Concern?
We are hearing more about blue light now than in years past. The first blue light LEDs emerged in the early 1970s, but no one was talking about the damage blue light could cause to our skin and eyes then. It takes time for scientific studies to unveil the harmful side effects of new technology. Also, the way we live and our exposure to blue light has changed drastically over the years. Our modern-day lifestyle exposes us to blue light on a daily basis, even a consistent basis throughout the day. In the early 1970s and 1980s, life was different and our exposure to blue light was not as prominent like it is today, 50 years later.
Blue light comes from the sun as well as incandescent and fluorescent light bulbs. But our exposure to it has skyrocketed because much of the technology we rely on daily uses LEDs with high amounts of blue light. This includes computer and laptop screens, flat-screen televisions, tablets, and smartphones—devices many of us can't live without in this day and age. These devices emit high amounts of blue light and have become a regular part of our daily life and culture. As a result, our exposure to blue light is the highest it's ever been. This is where the cause for concern comes in and why it wasn't a hot topic 40 years ago.
The good news is, raising awareness and educating people about blue light offers them the opportunity to protect themselves. There are products on the market that can help shield you from the negative effects of blue light on your skin and eyes—you'll find my recommendations below.
‌‌‌‌How Does Blue Light Harm Our Skin?
The main source of blue light that reaches our body is from the sun but our electronic devices now deliver intense doses of blue light to us. Blue light contributes to skin aging similar to UV light. Actually, blue light penetrates the skin deeper than UV rays. Research on how blue light affects our skin is ongoing, but findings aren't good. Exposing skin to the amount of blue light we get from the sun caused more hyperpigmentation, redness, and swelling than when the same person's skin was exposed to comparable levels of UV rays. If you're already using a broad-spectrum sunscreen every day, that's a healthy choice but with increased exposure to blue light, an high energy visible light blocker should also be used.
Research also shows blue light can increase free radical damage and lead to visible signs of aging. The damage doesn't appear right away—it's cumulative, like sun exposure—and over time photoaging, hyperpigmentation, and the breakdown of collagen lead to wrinkles. Early research suggests blue light has the potential to cause extensive skin damage and premature aging.
Fortunately, there are products available to shield our skin from blue light. Whether you prefer sprays, serums, or creams, many SPF products also offer protection against blue light. Ingredients like zinc oxide and titanium dioxide block some blue light and combined with antioxidants like vitamin C can keep free radicals at bay.
‌‌‌‌Best Products for Blue Light Protection For Skin
Here are some top-rated products that offer protection from the damage blue light can cause to your skin.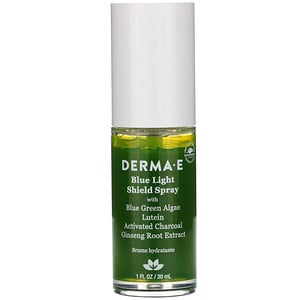 I've talked about Derma E in the past and I simply love this brand. Everyone I turn on to it also falls in love. They are an affordable, responsible ultra clean skincare brand with a large selection of products. Their Blue Light Shield Spray is vegan and cruelty-free and contains lutein to help shield skin from blue light. Not only does it work to create a blue light barrier, but it also contains blue-green algae, ginseng root extract, and activated charcoal. The combination of ingredients brightens the complexion and delivers a boost of moisture. It's an amazing product all year round but especially refreshing during the summer months.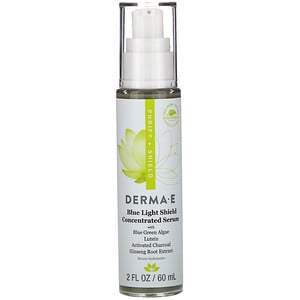 Within the Derma E Blue Light collection, there is also a facial serum that can be easily incorporated into any skincare routine. It contains similar ingredients to the Blue Light Shield Spray and ideally, the two products are combined. I use the serum during my morning routine and refresh my skin throughout the day with the spray. Serum should always be applied before moisturizer. This is a non-sticky, vegan, cruelty-free, eco-ethical formula. As with all Derma E products, you will not find any petroleum, mineral oils, artificial fragrances or colors, sulfates, parabens or phthalates. It's a great brand for those with sensitive skin who are looking for clean, pure skincare formulas.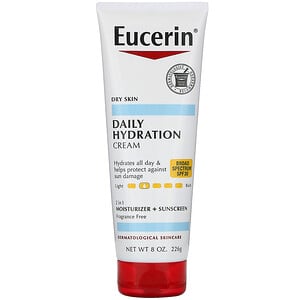 This multi-tasking product from Eucerin does it all when it comes to protection. The Daily Hydration Cream offers SPF 30 and is a combination moisturizer with sunscreen. In addition, the formula contains licochalcone, which is a licorice root extract that offers extended protection against blue light. Licochalcone is an antioxidant that protects skin cells at the deepest layers. You may also see the ingredient listed as glycyrrhiza inflata in your skincare or sunscreen. Check labels of products you have to see if you have a sunscreen that also offers some blue light protection with powerhouse antioxidants. And remember: sunscreen expires, so be sure your sunscreen is fresh.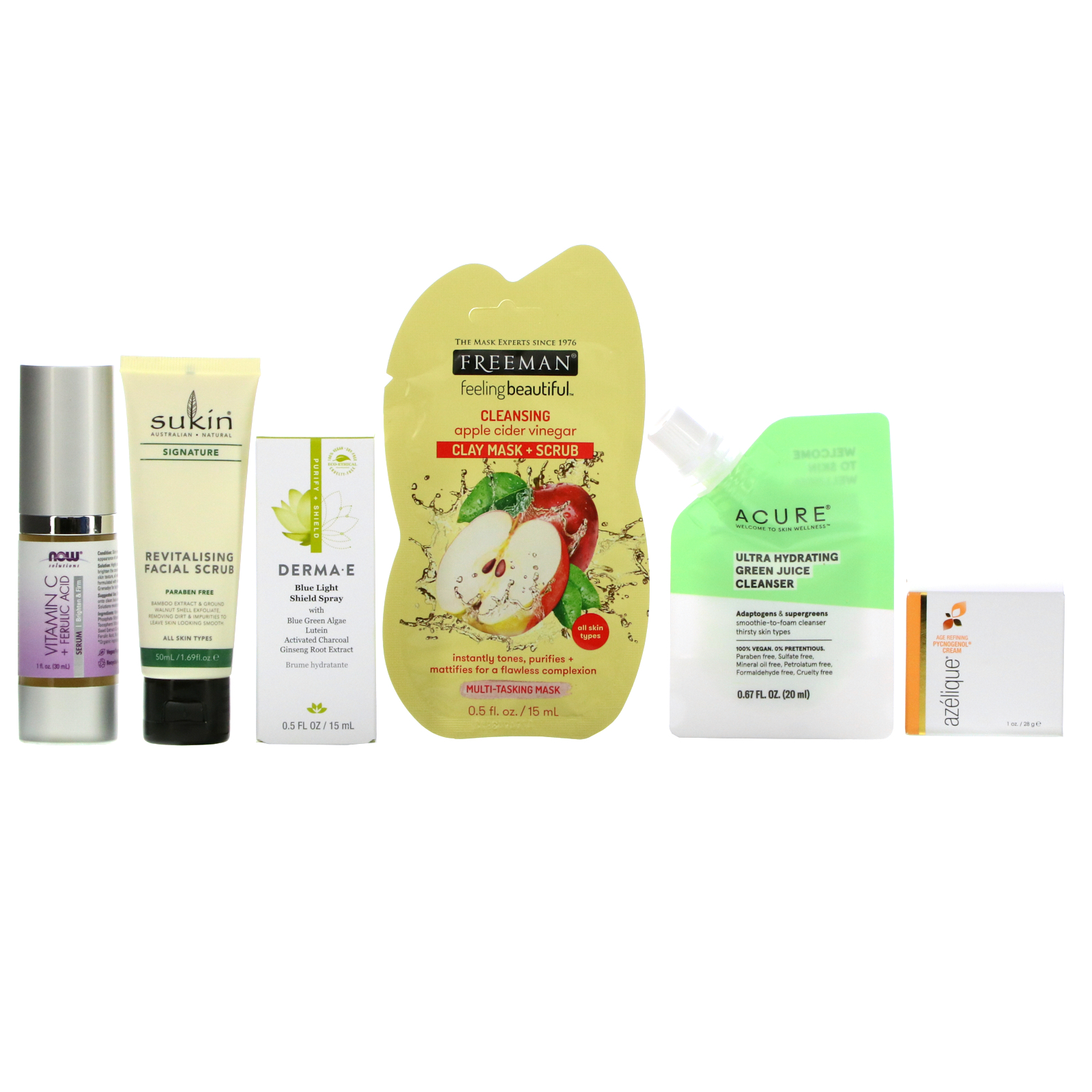 This affordable natural beauty sampler kit from iHerb contains a .5 ounce bottle of the Derma E Blue Light Shield Spray along with a vitamin C and ferulic acid serum from Now Foods. Vitamin C is the gold standard antioxidant that helps to brighten skin, reverse sun damage, and fight free radicals while offering protection against blue light. The set also contains a cleanser, mask, and anti-aging cream. It makes an ideal gift by offering a comprehensive skincare regimen at an affordable price.
‌‌‌‌How Does Blue Light Harm Our Eyes?
High energy blue light reaches the retina and studies indicate increasing concerns for ocular health. In animal studies, observations have noted damage to the retina and degenerative eye diseases that can lead to blindness. Also, digital eye strain from computer screens may cause blurry vision, and dry, irritated eyes. Some of you who work in front of an LED screen for extended hours may already suffer from this. When I wear contact lenses, my eyes get dry very quickly when working on my computer. With the pandemic, many of us have been inside longer in front of screens, increasing our exposure more than ever before. I sometimes spend 10 hours of my day in front of a computer screen and then switch over to my television or smartphone. On average, my exposure to blue light is more than 12 hours a day.
It will take more time to get definitive answers on the effects of blue light on human eyes but preliminary findings are not good. Just as smoking was ultimately declared to cause lung cancer, we need to be prepared for what mature research about blue light will unveil. In the meantime, there are some effective products available that can protect you and provide other health benefits.
‌‌‌‌Best Products for Blue Light Protection For Eyes
Here are some top-rated products that offer protection from the damage blue light can cause to your eyes.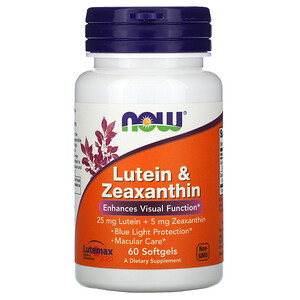 Now Foods has been family-owned since 1968 and has always been one of my top go-to choices for supplements. I have visited their manufacturing plant in Bloomingdale, Illinois, and can personally attest to the strict quality standards that go into every product Now Foods produces. If they don't believe in a product or can't source the best ingredients, they won't produce it and they never cut corners. This non-GMO supplement contains 25mg lutein and 5mg zeaxanthin. These substances are found in vegetables and when taken as a supplement find their way to a special area of our eyes that is responsible for central vision. The supplement acts as a primary filter for blue light and helps by protecting the eyes against oxidative stress.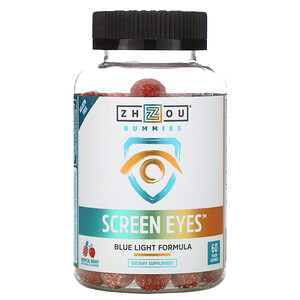 If you are looking for a vegan option, Zhou Nutrition offers tropical-flavored gummies to help protect your eyes from the effects of blue light. Zhou Nutrition's Screen Eyes gummies contain 20mg lutein and 4mg zeaxanthin isomers and this formula is safe for children ages four and up. These gummies are free of gelatin and are made with non-GMO ingredients. For children as young as two of age, Catalo Naturals, offers a safe chewable tablet for eye health with the necessary ingredients that filter blue light.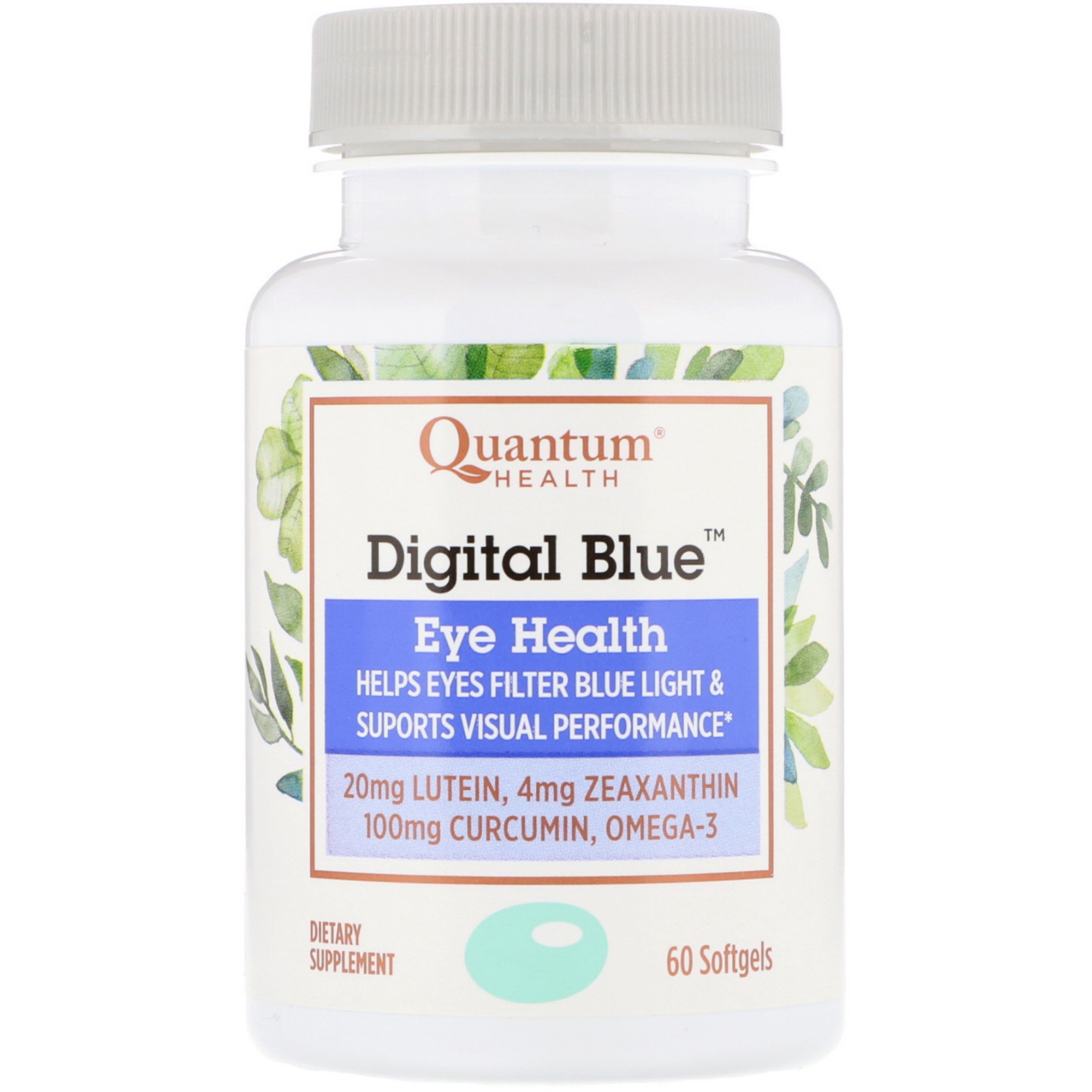 Digital Blue was formulated by one of the world's leading experts in eye health nutrition, Dr. James Stringham. The formula is based on his work in the US Air Force Research Laboratory to enhance visual performance in military personnel. These soft gels contain the same amount of lutein and zeaxanthin as the vegan gummies, however, this formula also contains vitamin E, zinc, curcumin, and omega-3s. The additional ingredients in the Quantum Health supplement help support optimal visual performance in addition to helping to filter blue light.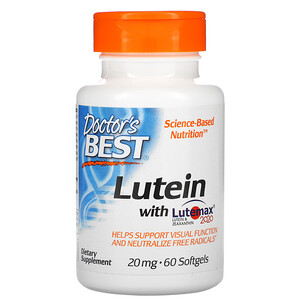 If you are looking for an effective supplement to filter blue light and protect your eyes but are on a tight budget, Doctor's Best Lutein with Lutemax is an incredible value. Doctor's Best is a brand backed by science and their supplement contains non-GMO ethically sourced ingredients. With a combination of 20mg lutein and 4mg zeaxanthin, the supplement offers blue light protection at a reasonable price.
Another vegan option is Vision Optimizer from Jarrow Formulas. This supplement is a comprehensive vision support formula offering the benefits of blue light filtering along with antioxidants that support rich blood flow to the eyes and lens architecture. Vision Optimizer contains B vitamins, selenium, vitamin C, and other antioxidants that support the overall body which ultimately works to minimize oxidative stress on the eyes.
References:
Nakashima Y, Ohta S, Wolf AM. Blue light-induced oxidative stress in live skin. Free Radic Biol Med. 2017 Jul;108:300-310. doi: 10.1016/j.freeradbiomed.2017.03.010. Epub 2017 Mar 15. PMID: 28315451.

Tosini G, Ferguson I, Tsubota K. Effects of blue light on the circadian system and eye physiology. Mol Vis. 2016 Jan 24;22:61-72. PMID: 26900325; PMCID: PMC4734149.