A Makeup Artist's Tips and Products for Long-Lasting Summer Makeup
DISCLAIMER
This blog has not been approved by your local health department and is not intended to provide diagnosis, treatment, or medical advice. Read More

This blog has not been approved by your local health department and is not intended to provide diagnosis, treatment, or medical advice. The content provided on this blog is for informational purposes only. Please consult with a physician or other healthcare professional regarding any medical or health-related diagnosis or treatment options. Information on this blog should not be considered as a substitute for advice from a healthcare professional. The claims made about specific products throughout this blog are not approved to diagnose, treat, cure, or prevent disease.
In this article: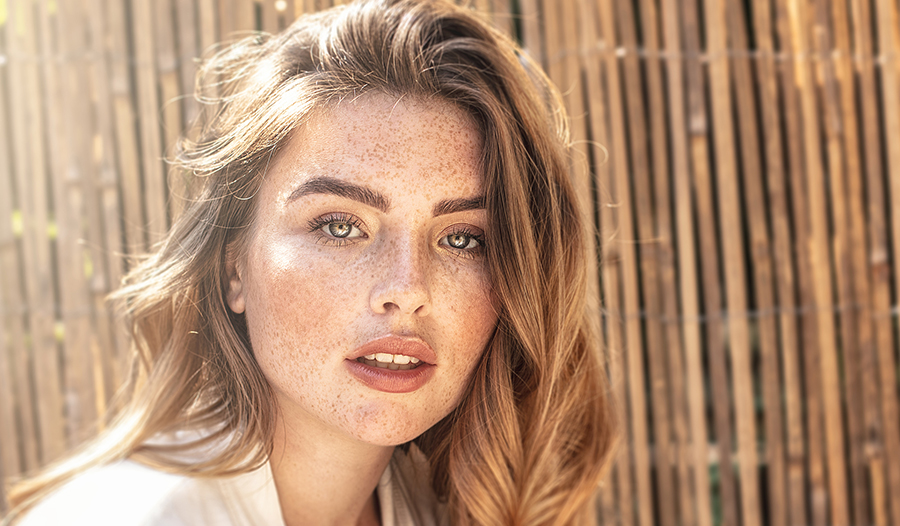 There are so many good things about summer—sunshine, longer days, cute shoes, the beach—the list goes on and on. One of the not-so-good things about summer, however, are the challenges to your skincare and makeup routines. Your usual tried-and-true routines are suddenly no match for the heat and humidity, which can cause your makeup to wear off within a few hours.
Summer weather also can cause more frequent breakouts and sun damage to your skin. Makeup and skincare definitely become way more complicated during the summer months, but fear not! There are some quick and easy steps that you can add to your daily routine that ensures long-lasting makeup and great summer skin.
‌‌‌‌Good Makeup Starts with Good Skincare
As a makeup artist, the preparation of my canvas is just as important, if not more so, than the makeup application. It goes without saying that a solid skincare routine is important during every season, but it is crucial during the summer once heat, humidity, stronger sun, and sweat enter the equation.
During the winter, we tend to use very emollient moisturizers and gentle cleansers to counter the effects of the cold climate and indoor heating, which tends to cause dry and sensitive skin. Conversely, when you are combating the effects of summer weather, you want to use a stronger cleanser and lighter moisturizer on your skin. The heat causes the skin to produce more oil as well as sweat, and the combination of those are breakouts waiting to happen.
Instead of slathering on a heavy moisturizer, try a lighter one that contains sun protection. If hydration is a big concern, you can always layer a hydrating serum under your moisturizer so that you can still have the benefit of hydration without a layer of pore-clogging, thick cream on your face.
‌‌‌‌Keep It Clean By Double Cleansing
Who among us has never had a night when we went to bed without washing our face? I know I have. Sometimes we are so spent from the day that the nightly skincare routine seems like too much work so we just skip it and go to bed. It's not a good practice any time of the year but during the summer, when you have that greasy and grimy feeling at the end of the day, you must persevere and wash your face before bed.
You are washing off so much more than just your makeup at the end of a day that is hot and humid. You are also washing off sweat, excess oil, and whatever particles that decide to stick to your skin. Moisture creates a hotbed for bacteria to thrive and cause breakouts. Now that you know this, there are no excuses for not cleansing your skin at night.
Korean skincare—or K-beauty—has been all the rage for the last several years and I was one of the people who jumped right onto that bandwagon. I even did the 10-step skincare for quite some time. I eventually stopped because, well, 10 steps translates to a lot of time and money. But one of the steps I have religiously followed since I learned about it is the double cleanse.
Double cleansing means that first, you wash everything off of your skin and then you wash your skin itself. I did not realize for a long time that when I washed my face at the end of the day I was really just washing my makeup off and not actually cleansing my skin. The most common double cleansing method is an oil-based cleanser like Heimish All Clean Balm followed by a foaming cleanser like Benton Honest Cleansing Foam. The oil removes everything and once you rinse off the oil and wash your face again you will see and feel such a tremendous difference. Your skin will never feel completely clean again unless you are double cleansing.
‌‌‌‌Smooth It Out With Exfoliators
Probably the most important step of summer skincare is exfoliation. We need our makeup to really stick in the hot weather and when there is a bunch of dead skin on the surface, it just doesn't work as well. It is simply astonishing how many people skip this because they think the only way to exfoliate is to use a harsh scrub that will damage or irritate their skin. There are many gentle ways to exfoliate that even the most sensitive skin can withstand during the humidity of summer.
The two main ways to exfoliate are physical and chemical. Physical exfoliation is done with a scrub that sloughs dead skin off your face. It is true that there are a lot of very harsh scrubs on the market that do more harm than good, but there are some very gentle scrubs that exfoliate beautifully without any damage to the skin. One of the most skin-friendly and effective ways to physically exfoliate the skin is an enzyme powder cleanser like Elizavecca Milky Piggy Hell-Pore Clean Up Enzyme Powder Wash. The active enzymes work to break down dead skin cells while the very fine powder buff them away while you cleanse.
Still unsure of physical exfoliation? You can always incorporate a chemical exfoliating product into your routine. The most common chemical exfoliators contain alpha-hydroxy acids, usually either lactic or glycolic acid. What these acids basically do is break down and shed the top layers of dead skin. There are several different ways to incorporate AHAs into your skin routine, but the most common ways are night treatments, masks, toners, and serums. If you are a beginner, the gentlest way to start is the use of a toner, to be applied after cleansing but before serums and lotions.
Now that we have the skincare sorted out, how can we get our makeup to last all day? It's tricky for sure, especially when it is so humid that it feels like your makeup is going to slide right off, but there are some tricks to ensure makeup longevity and it may be necessary to swap out a few new products.
‌‌‌‌Help: My Makeup Is Melting!
Undoubtedly, the complexion application is the most difficult to keep in place during the summer. The secret to your makeup staying put? Priming, setting, and more setting. A simple powdering of the face works fine in a cooler climate, but powder is no match for sweat, oil, and humidity.
Foundation presents two challenges—it not only must stick to the face, but it also has to be locked into place while enduring heat, oil, and perspiration. When applying your foundation, first ensure that you are using the correct shade. Our complexion tends to change during the summer so it is important to make sure that you are not using your winter color. You may even want to try an entirely different formula during the summer, perhaps something lighter or waterproof.
Whatever foundation you choose, there should be a primer in between your skin and your foundation to make it stick. I tend to not use skin primers most of the time as I find that moisturizer usually does the trick, but summertime is an entirely different ball game and primer is essential. Layer your primer on to your skin and immediately dust with a translucent powder. The powder gives your foundation something to grab onto, giving you long-lasting results. Apply your foundation over the layer of powder with a damp makeup sponge by pressing it into the skin and apply a cream or liquid blush right on top of your foundation. Set your cream blush with a similar powder blush and dust a loose highlighting powder like Bretman Rock x Wet n Wild Jungle Rock Loose Highlighting Duo on to the high points of your face. Follow with translucent setting powder applied with a damp makeup sponge over remaining skin. Finally, mist the entire face with an illuminating setting spray like Touch in Sol Metallist Galaxy Setting Spray to lock everything in place and give your skin some extra summertime glow.
‌‌‌‌Eye Can Do It With Primers and Waterproof Formulas
The easiest makeup adjustment for summer weather is eye makeup. Most of your favorite eyeliner and eyebrow products are available in a long-wearing formula.
With mascara, it is almost impossible to keep traditional formulas from melting and the only real solution is to switch to waterproof. I recommend the infamous J-Beauty favorite, Heroine Make Long & Curl Super Waterproof Mascara, as it's lengthening, holds a curl and stays put. I know waterproof formulas can take a toll on your lashes, but an oil cleanser is fantastic for gently removing waterproof mascara.
Aside from swapping formulas, the only real adjustment to your eye makeup routine that you need to make is upping your eye primer game. One of the oiliest places on the face is the eyelids and it can wreak havoc on your eyeshadow. A primer will create a barrier between your eyeshadow and your lid and make it more difficult for oil to reach your eyeshadow, Eye primer also provides grip and an even surface, creating a longer wearing, even, and more pronounced application.
I always encourage people to find the routine that works best for them. These tricks have helped me keep my face on all day, even outside, in hot and humid weather, but remember that every face is different. Keep trying until you find what suits you. It's definitely a challenge, but not impossible. Keep cool!