Keto Kickstart: Here Are 3 Full Days of Recipes
DISCLAIMER
This blog does not intend to provide diagnosis... Read More

This blog does not intend to provide diagnosis, treatment, or medical advice. Read more. The content provided on this blog is for informational purposes only. Please consult with a physician or other healthcare professional regarding any medical or health-related diagnosis or treatment options. Information on this blog should not be considered as a substitute for advice from a healthcare professional. The claims made about specific products throughout this blog are not approved to diagnose, treat, cure, or prevent disease.
In this article: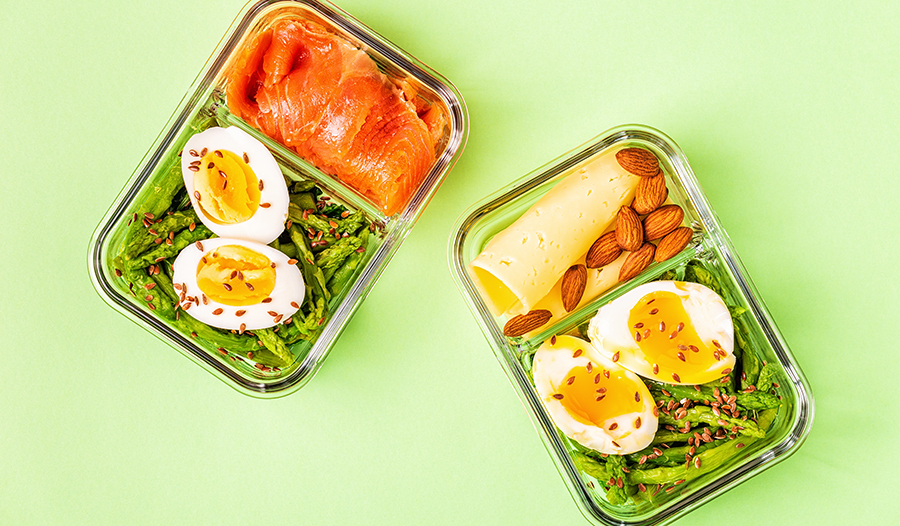 The Keto diet is one of the best available options if you're trying to lose weight safely and quickly. This diet allows you to eat delicious meats, healthy fats, and vegetables—all targeted to help you burn the extra fat on your body by putting you into ketosis! Fascinating, right? To understand how the Keto Diet works you need to learn about macros, which are responsible for fueling our body.
Macros refer to three important nutrients: carbohydrates, proteins, and lipids (fats). These are considered the three essential macronutrients that we consume to get energy. Usually, a typical meal consists of 60% carbohydrate, 20% protein, and 20% fat or lipid.
The Keto Diet suggests that you reduce the percentage of carbohydrates and make your diet heavier in protein and fats. When you decide to go on a Keto Diet, your meals generally consist of 65% fat, 30% protein, and 5% carbohydrate. If the body gets less than 20 grams of carbohydrate each day, it goes into ketosis, a metabolic process that burns stored fat to produce ketone bodies that supply the energy required to run your body. Thus, if you plan your meals meticulously and keep the carbohydrate consumption extremely low, you can expect to lose weight quickly.
Here is a 3-Day Keto-Compliant Meal Plan
The upside of this diet is that the meals are not bland and are reasonably easy to prepare.
Keto Diet Day 1
Breakfast: Keto Pancakes and Stir-fried Broccoli
Break two eggs in a bowl and add 1/2 tablespoon of almond flour. Next, throw in 2 ounces of cream cheese and a pinch of salt to taste. Whisk the mixture until you get a smooth mixture of pouring consistency. Heat butter in a pan and fry the pancakes one by one.
Cut a small head of broccoli into florets and wash them under running water. Heat olive oil in a pan and throw in some chopped garlic. Once you get a nice aroma, start to add the broccoli florets and stir fry them for a minute or two. Sprinkle a bit of sea salt and your breakfast is ready.
Note: If you prefer your pancakes a little sweeter, you can add a pinch of cinnamon or vanilla instead of salt in the pancake mixture and pair the cooked pancakes with fresh strawberries.
Snack: Assorted Nuts
You can have a handful of mixed nuts to prevent sudden hunger pains. Almonds, cashews, and pistachios are all keto-compliant nuts. You can dry roast them lightly to enhance the taste.
Lunch: Stir-fried Chicken and Veggies
Add one pound of minced chicken breast to heated oil in a pan. Chop some cabbages, peppers, and tomatoes and add them after 5 minutes. Keep tossing and add ginger and garlic paste after five more minutes. Turn off the heat and shred a little bit of cheese on top of the mixture.
Dinner: Broccoli-Mushroom Salad with Diced Chicken
Cut one small broccoli and some button mushrooms into bite-sized pieces. Dice a quarter pound of chicken breast into cubes. Heat olive oil in a wok and toss in the chicken slices first. Once they are lightly fried neatly move them to a bowl and add a dollop of butter to the pan. Cook the broccoli and the mushrooms for 1 minute and then add the cooked chicken. Add a few cloves of chopped garlic and toss for 2 minutes. Turn off the heat and sprinkle oregano generously. Your dinner is ready.
Keto Diet Day 2
Breakfast: Scrambled Eggs, Turkey Bacon, and Grilled Brussel Sprouts
Break two large eggs, add a bit of salt and pepper. Whisk into a smooth solution. Chop half an onion and one tomato into small pieces and add them to the eggs. Heat a little butter in a pan and pour in the egg mixture and begin to scramble with a spatula. When the eggs are half done, you can shred in some cheese for extra taste.
Grill two slices of turkey bacon.
Arrange some Brussels sprouts on a skewer and coat them with chopped garlic, crushed ginger, and olive oil. Grill each side for 5 minutes to a light golden color. Now, your scrumptious breakfast is ready!
Snack: Veggie Sticks Dipped in Peanut Butter
Cut carrots and/or celery into 3-inch sticks. Dip them in peanut butter for a quick and tasty snack.
Lunch: Collard Shrimp Wrap
Take a large collard leaf and blanch it in salted water for 30 seconds. Coat 1 pound of shrimp with sea salt and pepper. Cut 1 tomato and 1 green bell pepper into small cubes. Heat oil and toss the tomatoes and the bell peppers first. After a minute, add the shrimp and toss everything for 1 minute. Add 1 spoonful of butter and some chopped garlic cloves and cook for another minute. Turn off the flame and your filling is ready. Place it neatly within the collard leave and roll it into a nice, savory wrap.
Dinner: Pork Chops
Sear bone-in pork chops on both sides for around 4 minutes in heated olive oil. Take butter in a bowl and mix it with rosemary and chopped garlic. Place the chops on a baking tray brushed with butter mixture and cook for 12-15 minutes at 375°F. Once done, drizzle more butter on the chops and enjoy your dinner.
Keto Diet Day 3
Breakfast: Fruit Smoothie and Smoked Sausages
If you are someone who prefers a predominantly sweet breakfast then you can go for a fruit smoothie that tastes excellent, filling, and has few carbohydrates. Add frozen strawberries, frozen raspberries and frozen blackberries in a blender. Add almond or coconut milk to get a rich and creamy taste. Blend them together. You can sprinkle some bits of almond and grated coconut on top to enhance the taste.
Have two turkey sausages on the side for an even more satisfying breakfast.
Snack: Egg Muffins (Makes 2 servings)
Crack and whisk one egg. Add 3-5 chopped mushrooms in it. Crush a clove of garlic and add a pinch of sea salt and pepper. Mix well and pour into two muffin molds. You can add cheese or tomatoes as well for variety.
Lunch: Classic Egg Salad With A Twist
Take two hard-boiled eggs and crush them to form bite-sized pieces. Dice an onion and an avocado into small pieces. Next, wash a handful of cherry tomatoes. Mix all the ingredients in a mixing bowl and add a pinch of salt. You can simply squeeze the juice of half a lemon into it and your egg salad will be ready to eat.
Or, you can prepare a proper dressing by mixing 2 tablespoons of mayonnaise, 2 tablespoons of Greek yogurt and a dash of olive oil. Gradually, fold the dressing into the egg mixture and end by sprinkling a little bit of kosher salt.
Dinner: Meatballs and Side Salad
Take 1/2 pound of ground beef and add chopped garlic, ginger, shredded mozzarella, and one egg. Mix well and form into 5 balls. Heat oil in a skillet and fry the meatballs to a rich golden color for around 10 minutes. Move the meatballs to a plate and add 1 chopped onion to the skillet and fry until golden brown. Add 2 chopped tomatoes and keep cooking until a sauce-like consistency is obtained. Throw in garlic paste and coconut milk and the broth will turn creamy. Add the meatballs and cover. Simmer for 15-20 minutes and your dinner is ready.
So, take a deep breath and jump onto the Keto bandwagon. Starting is the hard part. Once you get started; the journey is smooth sailing! And, the weight loss and extra energy are awesome!