Alternative Eating Lifestyles
DISCLAIMER
This blog does not intend to provide diagnosis... Read More

This blog does not intend to provide diagnosis, treatment, or medical advice. Read more. The content provided on this blog is for informational purposes only. Please consult with a physician or other healthcare professional regarding any medical or health-related diagnosis or treatment options. Information on this blog should not be considered as a substitute for advice from a healthcare professional. The claims made about specific products throughout this blog are not approved to diagnose, treat, cure, or prevent disease.
In this article: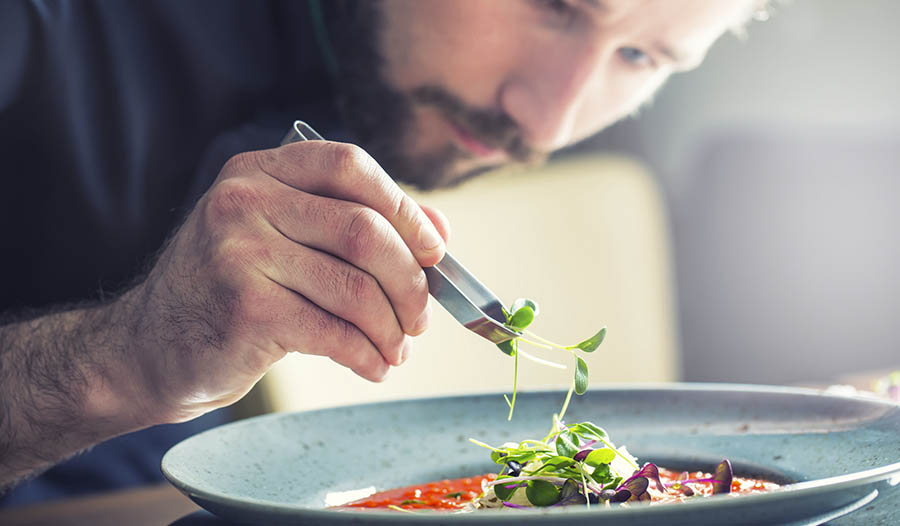 Learn about alternative eating styles that include variations of a tasty tomato soup recipe.
Many different eating styles have become popular lately so it can be tricky to tell them apart. Each eating lifestyle comes with its own unique health benefits, but they all have different sets of rules.
To see how these eating lifestyles vary, try out these tasty tomato soup recipes. Each delicious soup contains tomatoes, but they are all very different to meet certain dietary needs.
Raw Food Lifestyle
The raw food lifestyle is a diet that primarily consists of eating uncooked fruits and vegetables. Proponents of the raw diet say that it helps to reduce inflammation, boost energy and make their thoughts clearer. People who eat a raw diet tend to get a lot of their calories and nutrition from nuts, seeds, sprouted grains, vegetables and fruit. Some will eat raw, unpasteurized dairy products, but this is somewhat controversial in the community.
This cool gazpacho soup meets the raw diet requirements, but it is a favorite of many vegetarians and vegans too.
Tomato Gazpacho
Ingredients:
6 small or medium tomatoes

1 red bell pepper

1 avocado

juice from half a lemon

salt and black pepper to taste

4 cherry tomatoes sliced in half
Instructions:
Roughly chop the tomatoes, pepper and avocado and place in blender.

Blend until smooth, and then add salt and pepper to taste.

Blend again to mix in spices.

Serve topped with cherry tomatoes. Makes two servings.
Vegan Food Lifestyle
A vegan diet attempts to avoid all animal products whatsoever. In addition to not eating meat, vegans do not eat dairy, eggs, honey or foods made with animal products. This can be a little tricky because animal by-products are used as stabilizers and coloring ingredients in even simple products like sugar. Many vegans choose this eating lifestyle for ethical reasons, so they try not to use animal products in any other part of their life. In addition to eating vegan, many vegans avoid wearing leather or using products tested on animals.
Vegans will appreciate this yummy soup that leaves out cream, butter and other non-vegan items commonly found in tomato soup but still has just the right texture and taste.
Vegan Tomato Soup
Ingredients:
2 Tbs.

olive oil

1 chopped onion

2 Tbs. tomato paste

2 cloves minced garlic

14-ounce can of diced tomatoes

4 cups water or vegetable broth

½ tsp.

dried thyme
Instructions:
Put a large pot over medium heat and add oil and onion.

Sauté the onion for five minutes, and then add the tomato paste and minced garlic. Cook one more minute.

Add the tomatoes, broth and spices to the pot and simmer for 15 minutes.

Use an immersion blender or put the soup into a blender and puree until smooth.

Season to taste with salt and pepper. Makes eight servings.
Vegetarian Food Lifestyle
The vegetarian lifestyle is similar to vegan eating, but it is more flexible because vegetarians just avoid meat and fish. They enjoy eating a variety of grains, vegetables, fruits and legumes. It is normally easy to find vegetarian-friendly foods in restaurants. Though vegetarianism does require people to pay more attention to what they eat, it is not too difficult to get all the necessary nutrients from a plant-based diet. In addition to being friendlier to animals, vegetarianism can be easier on the body and the environment.
Warm up on a chilly day with this classic tomato cream soup. It might not be vegan, but vegetarians will love it.
Creamy Vegetarian Tomato Soup
Ingredients:
2 Tbs. butter

1 diced onion

1 carrot finely chopped

4 minced garlic cloves

1 tsp.

crushed red

pepper

1 Tbs.

dried basil

28-ounce can of crushed tomatoes

4 cups vegetable broth or water

1/2 cup cream
Instructions:
Heat the butter in a large pot on medium heat and then add the onion and carrot to the butter.

Sauté the vegetables four three to five minutes, add garlic and crushed red pepper, and cook one more minute.

Add the tomatoes, broth and basil to the pot. Cover the soup and bring it to a simmer.

Simmer the tomato soup for half an hour, and then remove it from heat.

Blend the soup until smooth and return to heat.

Stir in the cream and cook five more minutes on low heat. Makes three to four servings.
Paleo Food Lifestyle
Paleo eating gets its name from the idea of eating like paleolithic humans did. It essentially focuses on avoiding modern, processed food and eating a high-protein diet instead. Paleo eaters avoid all processed foods, dairy, legumes, cereal grains, vegetable oils and sugar. Instead, they focus on eating fresh produce, eggs, nuts and seeds, olive oil and seafood. Paleo eaters try to eat grass-fed instead of grain-fed meat when possible.
This paleo coconut tomato soup uses coconut milk to add creaminess, and it is packed with protein thanks to the addition of shredded chicken.
Paleo Coconut Tomato Soup
Ingredients:
2 Tbs.

olive oil

2 cloves garlic

2 14-ounce cans whole tomatoes

1 cup chicken

bone broth

1/4 tsp.

pepper

1 tsp.

salt

1/3 cup shredded fresh basil leaves or 3 Tbs.

dried basil

2 pounds boneless skinless chicken thighs

1 can full-fat coconut milk
Instructions:
Put the oil in a large soup pot over medium heat. Finely mince garlic cloves and add them to the oil.

Cook the garlic for a minute or two, and then add the tomatoes, water and seasonings to the pot.

Add the chicken to the pot, cover the pot, and simmer on medium heat for 25 minutes.

Take the chicken out of the soup, and then puree the rest of the ingredients in a blender.

Put the soup back in the pot at medium-low heat and pour in the coconut milk.

Shred the chicken while the coconut milk combines with the flavors of the soup.

Add the chicken back into the pot and cook for five more minutes. Makes four to six servings.
Gluten Free Food Lifestyle
Like the paleo diet, the gluten-free lifestyle also tends to be high in protein and low in carbohydrates. However, the primary focus is just avoiding gluten. This is a type of protein found in grains that may cause digestive issues in the human body. A gluten-free diet is particularly useful for those with Celiac's disease, but others with a sensitivity to gluten may benefit from this way of eating. Being unable to eat gluten means that most breads, pastas and processed foods are not an option, but it is not too limiting otherwise.
Make a hearty soup of tomato, kale and quinoa to stay full for hours without eating gluten. It cooks in a slow cooker, so it is extremely convenient.
Slow Cooker Tomato and Bean Soup
Ingredients:
Instructions:
Thoroughly rinse and drain the quinoa, and then add it to a slow cooker along with the tomatoes, beans, onion, garlic, spices and vegetable broth.

Add salt and pepper to taste.

Cover the slow cooker and cook the tomato soup on high for three hours or on low for seven hours.

Add the kale once the soup is done and stir it into the soup until slightly wilted. Makes eight servings.